DAD Buyback & Lock: How to Create a Deflationary DeFi Token
DAD is not just one project. DAD is DeFi Vaults, E-Curve, Hedgeos, and Raffle. DAD is the ultimate DeFi token. And it's created an ETH to EOS bridge. DAD's also the governance token for DAPP Account. DAPP Account enables users to sign transactions with email based logins shared across various dApps. You'll have simple access to integrated blockchain apps and your wallet. This article recaps the updates for each project DAD's built. There's also new proposals you don't want to overlook. I'll explain why DAD token is high-demand, low circulating supply and soon deflationary.
Bridges
The DAD bridge allows Ethereum stablecoin holders to earn yields on the EOS blockchain. EOS is cheaper and faster than ETH, but its user base is smaller and newer EOS projects often boast higher yields to incentivize staking. DAD's bridge allows ETH holders to utilize these higher EOS yields while keeping their ETH stablecoins.
DAD uses the LiquidApps DAPP Network technology for their cross-chain bridges. These two projects are heavily intertwined. And there's a lot of excitement happening with DAPP Network lately.
Vaults
Vaults utilize the highest paying yields available. These vaults were developed for the DAO, meaning DAD community members can frequently update and design the most efficient strategies for automating the highest paying yields.
DAD has a $1.6M market cap, but nearly $6M TVL (including DAD, DAPP, & EOS LP tokens).
There's numerous DAD vaults used for staking and earning yields. The better yields are always dual-asset. But DAD allows for staking EOS, DAPP, and stablecoins without the risk of IL or volatile tokens. The yield range is approximately 5-14% for these single-token staking mechanisms.
The LP yields are determined by how much eCRV you've staked.
Liquidity Provider Yields:
DAD-EOS LP (BOXVP) has a yield of 50% or more.

DAD-eCRV LP earns approximately 33%.
There's no lock-up on LPs. DAD alone earns a 2.3% in DAD tokens. But, if you lock your DAD tokens for a maximum of 1-year, you'll earn 24% yield in eCRV. Staking DAD could ultimately earn 27% yield in DAD and eCRV tokens combined. The yield varies depending on the prices of DAD and eCRV. If eCRV price goes up or DAD price goes down, the yield will increase.
If you wanted to stack your yields and compound them, you could earn DAD via the LPs and then lock-your DAD to earn more eCRV. You'll also earn LP fees on DeFibox.
E-Curve
The eCRV market cap is $1.4M. But TVL is greater than $4M, which consists of locked stablecoins (USDC, DAI, & USDT). You can stake eCRV for 4-years max. This option gives you the best return.
To maximize your yield on eCRV, it depends how much of the pool you're taking up. If you only have ten EOS you won't need a lot of EOS to get the maximum yield. But if you have ten thousand EOS you'll need a lot more ECRV staked to get the maximum yield.
If you don't lock your tokens, then you'll get 40% of your share. If you choose to lock a proportion of your liquidity, you could earn up to 100% of your token share. Depositing stablecoins into the tripool earns you fees. And staking the triplool LP tokens earn eCRV rewards. The eCRV stakers also receive 50% of stablecoin swap fees. Staking eCRV will boost mining rewards for eCRV LP vaults and Hedgeos.
Total fees waiting to be distributed to eCRV stakers can be seen in this table.
The eCRV vault mining rates depend how much eCRV you've staked. There's a lower base-rate, boosted up to a maximum percentage (ranges listed below).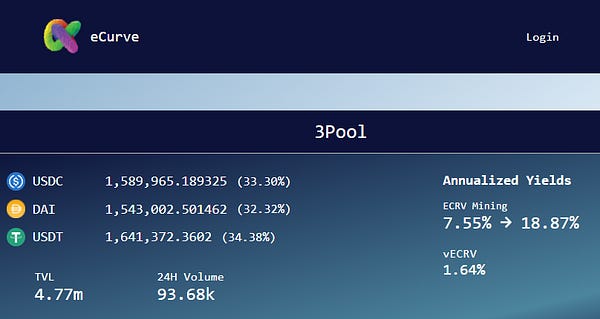 eCRV LP Vaults:
EOS-USDC LP mines eCRV at 17.4% - 43%.

EOS-DAI LP mines eCRV at 18% - 46%.

eCRV-USDC mines eCRV at 13.5% - 33.8%.

eCRV-DAI mines eCRV at 13.2% - 33%.
If you staked stablecoins into the 3-pool, you'd earn 5.7% with a 14.2% maximum boost.
Hedgeos
There's roughly $350K TVL on Hedgeos. You can view TVL on EOS projects by visiting eospayout. But the site's not yet accounted for Hedgeos. It's a newer project allowing early adopters the opportunity to trade on-chain, discounted EOS options.
You can also stake EOS to Hedgeos and earn interest. The yield varies based on how much eCRV you've staked. If you have zero eCRV staked, you'll get the minimum which is 7.45%. But, if you have the maximum ECRV staked, you'll receive an 18.5% yield.
Hedgeos yield is further boosted if options expire or big options hit. Hedgeos earns an eCRV base yield, but it's also collecting native yield earned from options. So, if someone goes long or short on EOS and they're wrong, the money paid for insurance on that option is distributed to stakers. The yield will continue to rise significantly with more adoption.
Raffle
DAD's no-loss-lottery produces yield on entrusted tokens. Users may deposit EOS into the prize pool on either daddydao.io or superdad.finance. DAD's prize pool is similar to pooltogether.com. But the DAO only accepts EOS right now and performs weekly drawings.
Yield is accumulated and stored on the prize pool's contract. A weekly draw picks one winner to receive all accruing yield over this time period. The more EOS you deposit, the more chances you'll have to win. And, of course, your deposited tokens can be withdrawn anytime. DAD supports the raffle and no-loss-lottery games right now, but more functionality can be added in the future.
DAD smart contracts will potentially run numerous DeFi games.
ECRV Buying Pressure
The eCRV token is slow mining over years. And it's basically needed to boost your yield with stablecoins or LP tokens on eCurve. So people will continue buying eCRV to maximize their yields. Hegeos settlement fees are also used to buyback eCRV. So more options trading on Hegeos also increases eCRV buying pressure.
The latest DAD call discussed ideas for using the protocol's eCRV to perform YFI-style strategies for dUSDC and dDAI vaults in order to generate additional fees (in USDC and DAI). These fees could be used for eCRV buybacks.
DAD could potentially create an eCRV pool, where stakers would earn high yields without owning eCRV.
Someone who doesn't own much eCRV but wants to earn yield on USDC could stake through DAD's dUSDC vault to receive a higher boost. DAD will have a lot of eCRV staked for 4-years, which enables the end-user to generate a much higher yield. DAD would simply use the stablecoin yield to buy back eCRV and perpetually lock it for 4-years. Fees collected from the additional mined eCRV would also be perpetually locked for 4-years.
The end-user should be able to easily stake and earn yields. Since many people would not hold eCRV or would not lock it for 4-years, DAD's vault would perpetually lock their eCRV tokens and share the boost with everyone. DAD would accrue a slight fee, but the user maintains a much higher yield. So it's a win-win for everyone.
DAD Treasury
One of the main ways DAD earns yield is withdrawal fees from liquidity mining vaults. There's a 0.2% withdrawal fee. These fees go straight to DAD's treasury. Starting last week, half of the generated yield was used to buy DAD tokens off the market via Defibox.
If someone withdraws 10K EOS from the EOS pool, twenty EOS would go into the vault. Half of that (ten EOS) would buy back dad and perpetually lock it. This creates another mechanism -- whenever you lock-up DAD you're mining eCRV at 24% yield. So the DAO is earning eCRV as well. The DAO needs to decide how to utilize these funds.
There's 2.6 or 2.7 M dollars of DAI and USDC sitting on ETH, locked in a contract. And the equivalent on EOS is pegged and locked up in eCRV. On the ETH side, a percentage of the vault is staked into the original curve.fi. Those tokens are actually earning 15K each month in yield.
Since the ETH bridge generates yield, DAD is not dependent on EOS price. The DAD token is independent and self-sufficient of EOS.
The dadfeevault1 currently holds nearly $30k in value, including $10k in stablecoins and $11k in EOS. There's also millions of eCRV in the eCurve WPS (ecurvewpfund).
The DAO is currently using ETH bridge fees to purchase DAD and lock them for the long-term. The current yield value is around $15k per month. The DAO uses 50% for feevault and 50% for DAD buybacks, as per proposal 110. Buybacks will be conducted once each month. You can check the monthly rate at this link.
The first buyback boosted DAD's price over 33%.
New DAD Buyback & Lock Proposal
A new proposal was just submitted to increase the DAD Buyback and Lock program to 100%. This implementation would continue until the current reserve of funds is no longer sufficient.
The proposal increases DAD Buyback and Lock from 50% to 100% of all fees collected by dadfeevault1. You can view the current DAD treasury here.
The Ethereum side of the DAD bridge alone should continue earning $15-20k of yield per month from its dual yield strategy with Curve.fi. These funds could be used to deepen the liquidity provisioning on Defibox through the Buyback and Lock program. There's not many DAD tokens in the liquidity pool because so few circulating DAD tokens exist.
Roughly 85% of the DAD supply is staked. APR is reduced when so many tokens are staked. But DAD still earns great yields (27%) when including eCRV lock-ups.
To recap, there's not many DAD tokens being minted. Most of the DAD tokens are staked and locked long-term. And the new buyback program will purchase nearly $15K dollars of DAD each month.
When this proposal passes, it will essentially make DAD deflationary.
---
Learn how to earn…
Become part of our community.
Follow our socials.
Subscribe to our podcast.
Subscribe to this publication.