TOP HEADLINES
---
More Funding Coming to Eden?
Eden Chief Delegate meeting #5 may prove to be a memorable one. Its ultimate impact may lead to increased Eden's funding. Chris Barnes listed the key issues. CDs look to request funding from the ENF. A new motion could increase the treasure draw rate by 3 fold. For more details, visit Bywire's posting of meeting minutes. This wasn't the only topic on the agenda. Other topics discussed included:
individual CD updates

a treasury report

motion for Eden as a legal trust

member services
Present at the meeting were Gracie Lau, Michael O'Sullivan, Chuck MacDonald, and Edgar Fernandez. Brock Pierce was not in attendance. That didn't stop Helios (of which Brock is CEO) from supporting the initiative via tweet.
---
Yield+ Nearing Launch Cycle
There's a lot of excitement around Yield+. Developers believe that incentivized liquidity is key to taking EOS (and DeFi for that matter) to the next level. For a deeper dive, view a recent Everything EOS video with Yves La Rose, Zack Gall, and Denis Carriere. Portal and smart contracts are already funded. This is in anticipation of leveraging the Trust Network. The broader developer community will also be able to hit the ground running. The ENF confirmed that the final format of the Yield+ Blue Paper is nearly ready. It's release will coincide with Korean and Chinese translations. TrimBot pointed how a lot of recent EOS development is a long time coming:
…The @EosNFoundation is doing everything Block1 should have been doing for EOS, which is why you see lots of devs… returning to build on EOS.
---
Tapping B1 Locked Funds
Virtually anyone in EOS can speak volumes about the B1 locked token controversy. Well, at least any regular participant in daily chats. For that reason, and to avoid as much of my bias as possible, variously selected tweets will populate this entry. Starting with the ENF about the token unlocking schedule:
"...resolved to dismiss @B1 and cut …(67 million $EOS tokens) that B1 was scheduled to unlock over the following six years."
ENF on motivation:
"…mistakes that pushed the #EOS Network Foundation (#ENF) and the $EOS community to fight back and try to rebuild the blockchain."
Industry support:
"Many in the blockchain and #Web3 community wish the #ENF and @BigBeardSamurai good luck in their endeavors in trying to bring justice to the block producers and investors in $EOS..."
…New Hope…
Trim Bot on a caring community:
Block1 didn't care about EOS…but the community does. The community-led @EosNFoundation has helped revive EOS…
EOS Go excerpt:
..#EOS keeps building…
The Money Team GH concurs that EOS has a lot in the "pipeline" even beyond:
…governance & tech…
More eyes are on EOS. That's clear. The above illustrates how EOS news continues to expand. Recent media coverage outside of localized EOS mediums comes by way of CoinPedia, Crypto Bulls Club (timeline), Crypto News Flash, ZCrypto, Crypto Daily, and Coin Checkup. That's in addition to The Money Team's and other twitter threads.
---
It's Pomelo Reporting Day!
Season 2 of Pomelo has been analyzed and grants appropriately adjusted. Many in the community expressed their excitement over the new stats. Will Pomelo charts become a celebrated thing? They are indeed important in that the team determines critical metrics to address the following:
Quid pro quo

Sybil attacks

Collusion
Any project found guilty of the above was either disqualified or had their matching pool reduced. The most funding lost amounted to over $100,000. The top winner, EOS Web Wallet Plugin, gaining over $13,000. No wonder why there was so much excitement on Pomelo reporting day! View the full report entitled Pomelo Season 2 Analysis: Matching Pool Distribution on the team's Medium blog.
---
Mandel Upgrade Set for September 23
EOS is not like other blockchains. The mainnet community knows this. New users quickly come to understand the same through blazing speed and easy-to-use apps. Such advantages are possible because of EOS' blockchain innovations. Listen to what Yves La Rose said about the unique way EOS upgrades. In describing how a parameter changes on the mainnet, Yves said the following:
EOS essentially forks continuously… gone through multiple forks
These are considered soft forks. Unlike most other blockchain networks, EOS affords BPs ample time to test and come to consensus on new parameter changes. Confusion lies in misconceptions about expected new token releases. This is often associated with large scale changes in early generation blockchain tech like PoW. He goes on to say:
…Hard fork means something very specific to 99% of blockchain users and it is not the case in EOS
Basically, if the top 21 BPs reach consenus and are capable of implementing the new changes, the system upgrades. The consensus upgrade is scheduled for September 23. The YT video (above) begins at Yves comments about these upgrade differences.
---
Around fractally, Eden, and the Mainnet Community
Can fractally be incorporated into the Eden decision making process? Some within the community believe so. There's also been talk of using a fractallyEden standard for the next election. Additionally, a small group is trying to incorporate fractally into informal Eden meetings. Meetings every other week or so have been suggested. Hope by now it's understood that fractally and Eden are complementary technologies- one focused on governance and the other on consensus. If you're looking to make a difference or want the inside scope, join a fractally meeting and experience the potential of blockchain consensus. As for what's going on in Eden besides the motion to increase funding (CD meetign #5- see first entry above), check out this week's Fireside Chat and Mandel meeting #15 (also discussed above).
---
Meta Collect Community
Looking for a fun way to get involved with the EOS community and sister chains? Join Meta Collect Discord for info about Mongs, Crunks, COLLECT tokens, and of course, our beloved Finney. End of week saw quite a lot of momentum for several of Meta Collect's projects, including the near finished brick and mortar art studio. Discord is a great place to get alerts about live shows and breakout twitter spaces. You can also just come to chill or learn about engagement rewards. Never know when there'll be a popup giveaway event. And then there's the ongoing poker tournament.
---
COMMUNITY CHATTER
eosgo.io/news/enf-evm-w…
ENF
#EVM
+ Working Group: Trust will achieve full RPC compatibility and will organize hackathons in the future ☝️☝️☝️ Do you know about
#EOS
Trust EVM?
@VitalikButerin
How do you think this will affect
#Ethereum
(
#ETH
) and $EOS?
#EOSReturns
#EOSBees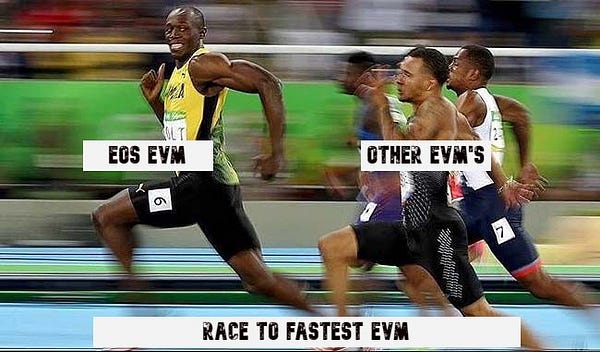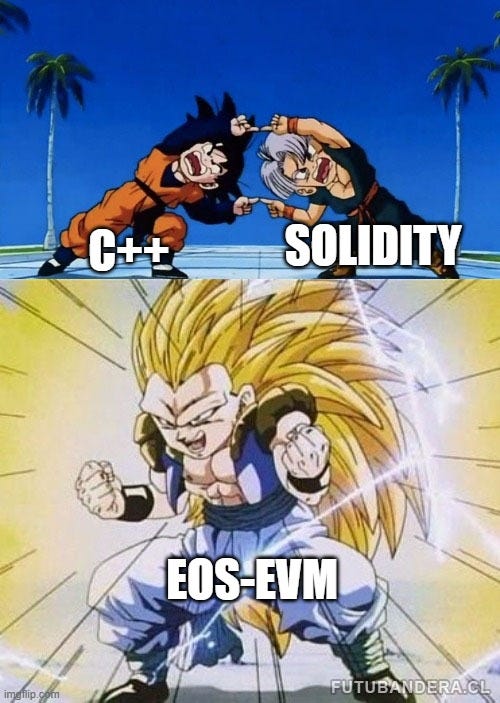 ---
EOSweekly is a roundup of recent news within the ecosystem. Unique needs and services continue to emerge as the advantages of blockchain technology are realized. Easy access to information becomes increasingly important for these expansive networks.
---
Comment & Earn!
Share your thoughts and opinions on the topics covered within this blog in the comments below for your chance to win yourself an NFT. Click here for more information on our engagement rewards.
Follow Marco: Twitter