Discover more from Cryptowriter
Cryptowriter is a blockchain agnostic community driven crypto publication.
Over 3,000 subscribers
Fractally, really… governance, messaging, and more will be scalable with core values in tact. The road ahead is once again charted. ENF released it's quarterly report. A study captures EOS energy efficiency. Roadmap revealed for Ultra gaming ecosystem. EOS Support director interviewed. Did you get your PowerUp NFT? Not too late.
TOP HEADLINES
---
Finally! EOS Dapp Ecosystem Chart 
The EOS mainnet hosts a robust dapp ecosystem. Keeping track of all that's available for users and developers can be challenging. This is why the chart presented by EOS Bees is such a big deal. Check out the team's discord to learn more about Plan BEE marketing initiative. The EOS dApp Ecosystem chart replaces one from a couple of years ago (rarely used anymore). Credit for constructing the chart goes to Bishop Creations and Charles Arroyo-Bishop of the French (BEE) Hive with motivation from Master Tarter Hernan Arber and support from Chief Delegate Jesse Jaffe. I was able to catch Charles for a few brief words:
…Larimer's book opened my eyes on the good we can achieve here and i'll probably never stop working to that end…
Chart content expects quarterly updates with input from the community.
---
Clarionos Goes Fractally
The Next Generation of DAOs
and:
Decentralized exchange + social media network on a high-performance smart contract platform #eos w/the most advanced fractal governance process….
This is what's posted on Fractally's twitter; this is Carionos rebranded. On Linkedin, the company categorizes as IT services and consulting. The About Us section specifically mentions social media, dex, and governance. Check out the Fracatally website for sweet visuals, or dive deeper into Dan Larimer's recent post Introducing Fractally — The next generation of DAOs. The rebranding announcement video (above) sets February 22 as the whitepaper public release date. In regards to the Medium post, you'll find Dan upholding a promise to include Bitshares, align with More Equal Animals and Eden on EOS, as well as building out the foundation with Mandel/EOSIO 3.0.
---
ENF Quarterly Report, BigBeardSamarai and Bytemaster7
Why was BigBeardSamurai on a rant and what else was Beytemaster7 up to this week? Maybe start with Part 3 of the January 23 Everything EOS interview entitled DAO of DAOs with Protocol Owned Liquidity… Indeed, Bytemaster7, BigBeardSamurai and the ENF support each other's ideas, projects and visions. To better connect with the community, BigBeardSamurai calls attention to cultural distinctions and wishing to engage in free flowing audio discourse in a new series /rant with Yves La Rose. He also took time to comment on the ENF's Quarterly Report. We're seeing some real heat generated here, maybe even approaching stardust intensity:
I would love to have a public conversation with @VitalikButerin… 
From the CoinDesk:
---
New Energy Study
Jean Carrière is a metaverse researcher and "technologist for passive buildings" working towards sustainability. With an ENF matched Pomelo grant, Jean embarks on a research project to study how EOS can improve energy sustainability over Proof-of-Work blockchains. The key is 'at scale'. Even if Ethereum 2.0 and the Bitcoin Lightning network find comparable success to EOS' current speeds, how much will it cost? This is a question not of just money, but also the environment. The world shouldn't settle for bruteforce innovation when EOSIO/Mandel exists, is battle tested, and boasts numerous use cases. There's no telling of where a dedicated, professional, and heartfelt analysis of the current landscape can take us.
---
Ultra Roadmap
The Ultra blockchain is founded on EOSIO. For users, Ultra is designed for mainstream adoption, is eco-friendly and carbon neutral. For developers, it boasts better game discovery, reduced development time/costs, leveraged secondary market, and ease of getting started. Ultra just released its 2022+ roadmap. Key target milestones include:
Updated wallet

Tournament platform

Uniq Marketplace

AAA games
---
Interview with the Director of EOS Support
For new users, the day may come when EOS Support is the commonality interwoven into daily discourse.  The brainchild of Randall Roland, the support network is unlike any other within the blockchain space. Key to the service are live agents that can connect with the broad spectrum of mainnet needs. Also integral is the growing body of content within the Learning Center. In a recent interview with NovaCrypto LTD, Randall discussed the challenges users face when discovering the differences between traditional blockchains and EOS:
…Create an account… learn how to … stake… vote …buy ram… power up…

…For the average user, these things are a little bit difficult…
Motivated by the lack of support while investigating actions into his own account, Randall said:
There should be a place where they can go… human touch… explain … or at least point them in the right direction.
---
Around the EdenOS Genesis Community on EOS
Outside of Fractally rebranding and the EOS Dapp Ecosystem Chart, maybe the most exciting news this week came out of EOS PowerUp. If you recall, the PowerUp team announced rewards for donations to help make resources more available. The first of those rewards were delivered to qualifying wallets this week. Rarer mints can be obtained by competing for high donation ranks. Chief Delegate Meeting #14 and the weekly fireside chat continue to inspire and lead the community. For convenience, here's a link to the latest Eden Members recap.
---
Cryptowriter (Finney) Report
While we wait for the finishing touches on the burning mechanism for Finney Comics volume 1, stop by discord (or telegram). One day soon, all Finney chat will be under a single umbrella. The Crunks giveaway ends January 31st. Come join the fun, just to chat, gain insight, or find out which Finneys have yet burned. There's a whole lot in the works for Finney World, The Crunks, and the UNDRGRND. Cryptowriter articles for this week include:
Of interest Cryptowriter Podcast Network videos on YT and Twitch:
---
COMMUNITY CHATTER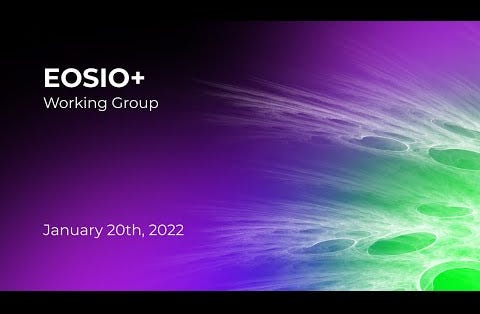 youtube.com
EOSIO+ Meeting, January 20th, 2022

Imagine you're designing a new economic system from scratch, how would you design it? Architects attempt to satisfy society's shared ideals when doing so, such as freedom, opportunity, fairness, and security. How have blockchain architects done so far? Results are mixed. https://t.co/F0dzd2ffer
---
EOSweekly is a roundup of recent news within the ecosystem. Unique needs and services continue to emerge as the advantages of blockchain technology are realized. Easy access to information becomes increasingly important for these expansive networks.
---
Comment & Earn!
Share your thoughts and opinions on the topics covered within this blog in the comments below for your chance to win yourself an NFT. Click here for more information on our engagement rewards.
Follow Marco: Twitter