Discover more from Cryptowriter
Cryptowriter is a blockchain agnostic community driven crypto publication.
Over 3,000 subscribers
Web Authen lands and DAPP's price runs over an EOS-ETH bridge. Modihost supports EOS' desire for travel. B1 hammers in the final nail of baseless of claims. Catch up with EdenOnEOS following test election #2. Finney and the Cryptowriters quietly amp up their game.
TOP HEADLINES
---
Web Authen Officially Lands on the EOS Mainnet
The much anticipated Web Authen integration finally arrived. The community has EOS Nation to thank: 
...proposed and successfully executed a MSIG that enables WebAuthn on the #EOS Mainnet!
Testing has been ongoing for over a year on Jungle3 with an official proposal recorded on July 20. As expected, the requisite 15 block producers were standing ready to approve. View the executed transaction that went live on July 21. @EosEden called it:
A new step for #EOS public chain. ...
---
DAPP's EOS-ETH Bridge
Success out of the Liquid Apps and DAPP Network camp is no surprise. A profound EOS-ETH bridge expects to reshape much of the ecosystem. As Wes Carmichael put it in DAPP News and NFT Marketplace: 
...the whitelisting will make Bancor the liquidity hub for DAPP's ERC20 token on Ethereum.
Wes also discussed the in-development NFT marketplace powered by the DAPP token. Princess May Amaranto provided further insight in Coming Soon: Bridge to Allow Users to Move NFT from Wax to Ethereum. Flexibility supports emerging NFT technology, especially in cross-chain applications. For more information, visit the July 22 DAPP Network post, A Universal Guide to the DAPP Network. Remember that July 26 is the final day of the Bancor DAO voter snapshot. There's also a DAPP meme contest to celebrate the occasion.
---
Modihost AI and EOS for Hotel Management
Beyond Bitcoin, among the earliest business applications of blockchain technology included logistics and supply chain management. One would be hard pressed to find operations more dependent upon ledgers in general. Blockchain both secures and delivers the ultimate in efficiency through provably fair, decentralized ledgers. All contributing parties involved in the success of the hospitality expect to derive benefits. In How EOS Blockchain is Backing the Future of Hotel Management Systems,  Jillian Godsil covers vendor and inventory management, data collection and loyalty programs. Modihost and industry experts discussed how blockchain will transform hotel management and why EOS.
---
WAX Office of Inspector General Report
Among the many things that stand out on the WAX blockchain is the Office of the Inspector General. This is an elected position. WAX community well received the OIG, considered to be a key aspect of the chain's overall success. EOS Nation discussed recent events. This includes updated guidelines and Guild inquiries concerning community engagement, technical and development matters, as well as overall ecosystem aspects. Monthly OIG Reports and the official Github repository will be published on EOS Hot Sauce.
---
Chintai's Co-Founder Mission Focuses
Chintai continues to produce week in and week out. Block.one's influence and the excitement around Bullish can seem to overshadow advances made by the Chintai Network. Nice to know that B1 and Chintai can working together. This week the Co-Founder/CO, Ryan Bethem, thanked Hackernoon for fostering discussion about the teams mission of:
...creating a financial system that has no operational bias towards social status, monetary wealth or position of power.
Where B1 takes the bull by the horns to trade prime-time punches, Chintai targets the advancement of core tenets of blockchain. Besides B1, Chintai recently partnered with Chimera Wealth, Cryptology Asset Group, and Bovill.
---
B1 Wire
The Bullish exchange has yet to launch and already it's the subject of prime time discourse. FOX Business' Maria Bartiromo was the latest to inquire about what B1 and the rest of the Bullish team have in store. In related news, B1 continues to pave the way for the rest of crypto through legal and regulatory advancements. Brendan Blumer reached out to the community to discuss B1's public commitments. He called it:
...an industry-first report of such nature.
@EOSIO tweeted that the report found:
...no evidence that Block.one either intentionally purchased tokens by any means during the token sale or entered into any arrangements with third parties to do so on their behalf…
Dan Larimer applauded the audit's publishing for its definitive answer of baseless claims. Here's a link to the full report by Clifford Chance LLP.
---
Around the EdenOnEOS Community
For a status report on where EdenOS and ClarionOS are at the moment, watch the Q&A with Brandon Fancher and Chris Barnes. Later in the week, Chris joined Jimmy D, Corey, Myra Wang, and Joshua Seymor in a roundtable recap of trial election #2. There was also a fractal democracy fireside chat this week. A summary of the first meeting of the new board is provided in written form here. If you missed last week's results, view this briefing. @EdenOS provided additional information, as well as welcomed Modihost to the community. I also presented a perspective in Eden Test Election #2: We Have a New Satoshi.
---
Cryptowriter (Finney) Report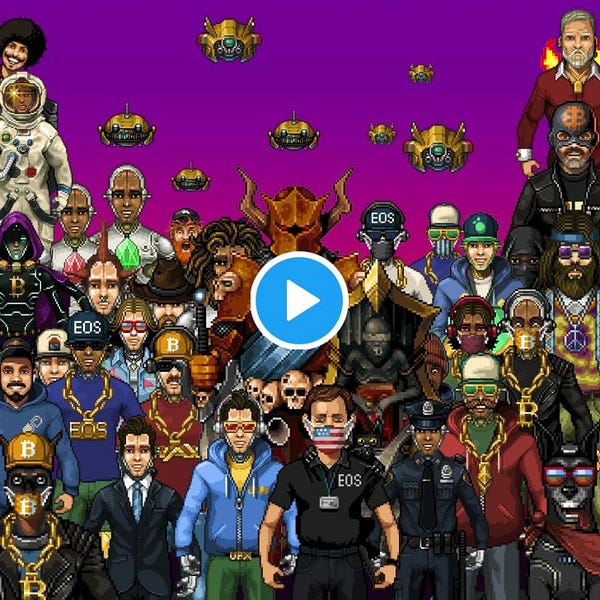 Last week Finney took his first selfie. This week Origin Finney and Finney Short 2 stormed WAX, while Illuminated Finney and Finney Short 1 quietly took their position in EOS' history. Could have posted the family shot (image above) last week, but well, you know. You'll find several Cryptowriter articles and podcasts throughout this week's edition of EOSweekly. Other Cryptowriter articles not already sourced, but with an impact on the greater EOS ecosystem include:
In terms of a few Cryptowriter Podcast Network episodes that impact EOS this week there was:
This week also saw a Finney art contest and Shift City's own, Sean, featured on The Uplift World BLDRZ. Taylor Arnold announced Week 11 engagement winners and let slip how to find some obscure Finney 2.0 secrets.
---
COMMUNITY CHATTER
theuplift.world
Crystalized Upliftium Is Here! - Uplift World
The Uplift is a Play To Earn constellation of worlds in the MetaVerse. Owning land, rail, or mining NFTs from The Uplift auto-magically earns you our In-World token called Upliftium. You can currently have high-def pictures put up In-World. Very soon there will be MANY ways to use Upliftium in The…
---
EOSweekly is a roundup of recent news within the ecosystem. Unique needs and services continue to emerge as the advantages of blockchain technology are realized. Easy access to information becomes increasingly important for these expansive networks.
---
Follow Marco.
Learn how to earn…
Become part of our community.
Follow our socials.
Subscribe to our podcast.