EOSweekly: Mergers for Bullish and Chintai, Inflation Proposal, T-Starter, Ultra Launch, Hot Sauce, and the Wir3s
Mergers out-shined the much anticipated Ultra mainnet launch. Compliance typified B1's Bullish partnership with Far Peak and Chintai / Chimera Wealth. T-Starter brings more crowdfunding to EOS, while a spicier Hot Sauce is on the table. And as always, the Wir3s- news from around EdenOnEOS, the B1 Wire, and the Finney Report.
TOP HEADLINES
---
B1's
Bullish
Set on an SEC
Far Peak
Compliant Merger 
It was not long ago that Block.one hinted at Bullish, an exciting exchange for the EOS ecosystem.  Just when official announcements began circulating, Peter Thiel grabbed the spotlight as a prominent backer. If you followed the efforts of B1 and Brendan Blumer, then you're probably aware of the term ProFi, programmable finance. Blumer has stressed compliance as key for the mass adoption of crypto. It's this aspect that appears a clear advantage of the imminent Bullish merger with Far Peak. According to an SEC filing, Far Peak Acquisition Corp. is:
…primarily in the business of blank checks.
How far will this move go toward assuring that Bullish mates regulatory compliance and is ready for launch? Thanks to rektkid for sniping this one.
---
Chintai Partnership
Two partnerships in one week? Market makers must be getting ready for something big. Chintai's partnership choice with Chimera Wealth is also focused on US compliance. PR Newswire described the motivation as: 
...remove numerous manual internal processes that are usually performed by a fund administrator...
Those few words will likely scare some dedicated souls working in traditional finance. Still, it's hard to argue that more opportunities won't be the result. The world is likely to witness something grander than what the Internet did for stock trading. Also this week, the Chintai team retweeted the importance that Mike Novigratz placed on DeFi compliance for major protocols. 
---
Proposal to Redesign Inflation to Include Token Holders
Block.one's proposal to change how block producers are rewarded may prove quite profound. The community was encouraged to comment on Twitter. The essence of the proposal is to reward token holders. At present, voting on EOS incurs a cost that only BPs can resolve. If B1's proposal is accepted, token holders will be rewarded directly. The inflation discussion extended to EdenOS. Funding the new governance community is believed to yield great significance from merely a 0.25% adjusted allotment.
---
T-Starter Brings Much Needed Project and Cross-Chain Support to the Ecosystem
After already finding some success on TLOS, T-Starter gets set to build a launchpad on EOS (June 29th). T-Starter is a different project from EOSTARTER (mentioned in the last EOSweekly). Both center around crowdfunding. T-Starter's vision is one of a cross-chain DeFi ecosystem where projects can self list and the DEX is fully automated. After sufficiently developing these two applications, listed projects will be able to complete their own IDO. T-Starter aims to compete with leading platforms. A bit of proof of the team's commitment toward this end is the simultaneous WAX seed sale. Visit the Medium blog for more information about the project.
---
Ultra Mainnet Ready
For many, Ultra's Mainnet launch may well be the most exciting thing to happen in crypto this year. The Ultra team was inspired to build a better blockchain-based gaming medium. What developed were solutions that expect to improve upon every aspect of traditional platforms. Ultra accomplishes what many believed to be impossible (or years away), an all-in-one gaming ecosystem. Core functions include:
game distribution

developer management and publishing center

compliant NFT standard

cross-chain wallet

transaction manager

SDK (games and apps)

queryable history
And that's just for starters:
We'll be going over the details of Wave 2 in the coming weeks!
---
E
xperimental
OS
Hot Sauce
When is ever adding heat to an already fiery hot sauce a bad thing? The EOS Nation team must be super excited about something. Why else would it concoct a new formula that enlivens old flavors and introduces new sensations like:
Spicing up NFTs 

Live chats tips for things like scavenger hunts

Cryptovoxel after parties

Live Discord chats 
Tune in on Saturdays at 1600 UTC. And here's the latest batch of ExOS Hot Sauce.
---
Around EdenOnEoS
EdenOnEOS surpassed 100 members this week. The second trial election is now open for registration. Chris Barnes, the winner of the first trial election, spoke about EdenOS' capacity to enact positive, on-chain governance, as well as applications in other areas. Also, the EdenOnEOS twitter account reawoke an ancient crypto post from 2013:
Here's the source post by Dan Larimer. Follow these suggestions for an invite to EdenOnEOS.
---
B1 Wire
B1 retweeted Gimly's  EOSIO Identity Working Group, a self-sovereign ecosystem for both industry and government. Decentralized identities and users in control of their data form the basis of the system. Block.one put the spotlight on EcoMatcher which I covered in a separate article earlier this week. B1 also brought attention to training for smart contracts, 83k in EOS paid to a contractor, and its developer relations newsletter.
---
Cryptowriter (Finney) Report
Visit Finney.World to discover the many things on the horizon for our beloved android. You'll find a lot scrolling down on that roadmap like Volume 1 packs are on the way (July), 2.0 to follow, and a whole lot more. All the while OGC and friends diligently construct a playground inside the Uplift metaverse. Have fun hunting for coins and here's another way to score a coin.
Writer and UltraRare are teaming up to bring you a gruesome art collab for the ages. 
Check out all the Cryptowriter articles including these that support a healthy ecosystem in and around the EOS ecosystem:
Cryptowriter Podcast Network episodes for this week:
This week was Round 8 of our engagement winners.
---
COMMUNITY CHATTER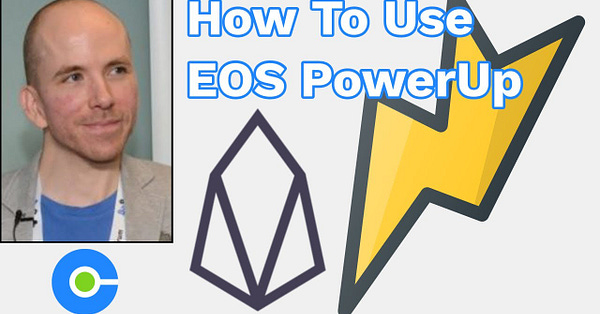 youtube.com
#EOS #PowerUp: How To Use It (As Fast As Possible)
Another tutorial provided for free by https://cryptoversity.comLinks:https://eospowerup.io/https://www.bloks.io/account/cryptoversithttps://eosauthority.com/...
---
EOSweekly is a roundup of recent news within the ecosystem. Unique needs and services continue to emerge as the advantages of blockchain technology are realized. Easy access to information becomes increasingly important for these expansive networks.
---
Follow Marco.
Learn how to earn…
Become part of our community.
Follow our socials.
Subscribe to our podcast.